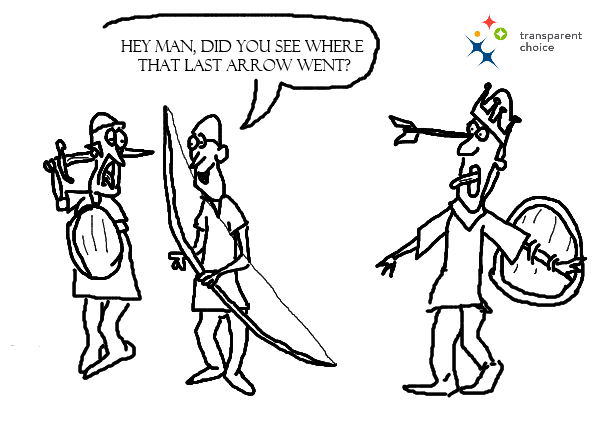 Many companies spend tens-of-thousands, or even hundreds-of-thousands of dollars setting up and running a project prioritization process. Yet, it appears that few companies have mastered this vital skill!
According to research, only 12.5% of organizations look at their projects to see if they align with corporate goals. This is close to gross negligence. If the research is to be believed, 87.5% of organizations invest significant resources without checking that those investments align with corporate drivers.
That's like a soldier letting off arrows and not knowing if he's going to hit his enemy or his comrades-in-arms. For the history buffs out there, this opens up a whole new set of conspiracy theories about who shot King Harlod, clearing the way for William the Conqueror to implement his "corporate merger" of England… hmmm.
But seriously, it doesn't have to be like that. We're going to look at three quick wins that will get you a solid, working project prioritization process in place quickly, without IT help and with very little investment.
Executive buy-in for prioritizing projects
In many organizations, the executive team is part of the problem. Projects are often selected based on the outcome of internal, political tug-of-war rather on their alignment with strategy. Don't mention pet projects…
Getting support from key executives to changing the way business has been done is absolutely key. Our recommendation is to sell the idea of better project prioritization to executives using three simple levers;
Sell the future. Paint a picture of a company where they didn't spend their lives fighting for projects, but where important projects support their goals and drivers. Perhaps mention a project of theirs that probably should have been selected… but that wasn't.

Sell the return on investment of prioritizing projects. Typically, the investment in good prioritization is paid back in the first year.

Remind them of the past. Acrimonious meetings, scrapped projects, "Bridge to Nowhere" projects.
Define standard evaluation
For the 87.5% of organizations out there who are not checking that their projects align with strategic goals, here's a tip: write down your goals and turn them into project prioritization criteria. It doesn't take long – probably a one-hour meeting with your exec team would do the trick. This one tip will transform your project selection… so long as you then remember to use these criteria to select projects.
Analytical Hierarchy Process (AHP) is a really good tool for doing this. Your strategic goals, and the criteria you derive from them, are likely to be quite disparate. Improving environmental performance is a completely different beast to reducing costs, and it's difficult to simply "assign a weighting" to them (as many people suggest). AHP makes this potentially contentious and difficult process quite simple by comparing the criteria to each other one pair at a time. "Is A more important than B?" is a really simple question and the software can then aggregate all the data from across the teams and derive the weightings from those small judgments.
What you get at the end is a model outlining the criteria by which you make your project selection decisions, along with the relative weights of those criteria. These can now be used to filter projects, evaluate them and create a corporate knowledge base for reference.
One word of warning, however. Criteria and their weightings change over time. Sometimes, a project will come along that adds heaps of value… because it does something new, something that isn't captured in your criteria. Sometimes competitors or legislators do something that changes your priorities. Make sure you update your criteria once-in-a-while to take account of this.
Automate
We often see that there is a 5:1 or even 10:1 ratio between the number of "project requests" and the capacity to deliver projects. Collecting, filtering and selecting projects can take a lot of time and resource and automating the mechanics of this process will allow you to focus on the important part – the decision!
Some people e-mail spreadsheets around and, yes, this can work. But the problem is, by the time you have 150 project requests, you're starting to lose track of what's where and what the status of each proposed project is. Tracking it all becomes rather cumbersome.
That's why we've developed a really simple system to allow people in your organization to request projects via a web-form. You can collect all the information you need from them in order to filter your projects down from 150 to, say, the 30 most likely projects. These 30 can then be presented to the executive team and can be prioritized… all without leaving TransparentChoice.
Project proposers are automatically notified if their project is approved or not and "near miss" projects can be rolled over into the next project review cycle. The time and hassle of managing the project office is greatly reduce. The accuracy and transparency is increased.
This automation step need not be costly, and it can be done almost instantaneously. Start small and build on your success. No big IT projects. No big budgets.
No matter if you use our tools or someone else's, automation is key to a quick and successful project prioritization implementation.
So, we have three steps; get executive sponsorship, define the criteria for selection, put in place automation. If you do this, you will leave the 87.5% behind. You will no longer be firing arrows into the air and hoping they hit the enemy. You will be productive… and the whole thing will only have cost a few thousand dollars.
We are here to help
A great way to get going is to do a quick portfolio audit to see how you're doing today and to identify quick wins.
The output of the audit is a report telling you:
How well aligned is your portfolio with strategy

Identify which projects are doing well and which ones are struggling

Clear recommendations to improve alignment and how to address failing projects
Learn more about the portfolio audit here