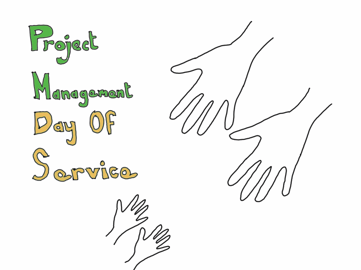 On July 13th, 1985, a group of musicians including David Bowie, Queen and The Who came together and changed the world. It was called Live Aid and was attended by around 170,000 people in the UK and the USA and was watched by one-and-a-half billion people around the world. Live Aid raised something like £150m (that's around $200m at today's exchange rate) for famine relief in Africa.
Now, come on! We in the PM community are not going to let a bunch of over-paid poppinjays with bad haircuts have all the glory, are we?
PMs, PMOs, consultants, vendors... we can all make a difference, we can change the world, and here's how.
Charities and Project Management
We all know of the big charities. There are the big medical research charities, poverty alleviation charities and so forth. Many of these charties have budgets of hundreds of millions of Dollars.
But most charities aren't like that.
Most charities are small. They rely on volunteers and, crucially, they don't have teams of professional project managers on the books, let alone a professional PMO.
Despite this, the projects they roll out are the link between their strategy and the execution of that strategy... just like any other organization. Weak project delivery, therefore, undermines the whole purpose for these charities and reduces the positive impact they have on the communities around us.
And that's a shame.
This insight lead to the creation of PM4Change.
PM4Change.org
TransparentChoice is delighted to be sponsoring PM4Change's Day of Service in the Washington DC area on Martin Luther King day next week.
What is PM4Change I hear you ask?
It's a non-profit that helps small charities implement projects through Days of Service (DoS). Project Management professionals come together with charities to help them troubleshoot, plan and execute their projects.
This is such a simple idea: you give a day to help a charity meet its mission. Imagine the impact with 50 charities in the room. That's 50 social missions accomplished...
BOOM!
The PM professionals involved also get something. It's an opportunity to "give back" and most of us enjoy that. It's also an opportunity to expand your skills, to learn from others, to network and to expand your own leadership skills in a new environment.
You can learn more at www.pm4change.org.
Why sponsor PM4Change?
As you probably know, TransparentChoice is a provider of project prioritization software. Our customers are some of the world's largest companies, government departments, etc. whereas the target audience of PM4Change is small charities. Surely those charities are too small to care about project prioritization?
Actually, it's their small size that makes this a great opportunity for us to give something back.
Think about it. If you have very limited resources you also have no room for mistakes. If you only have capacity to deliver 2 projects and one of them is the "wrong one", you're wasting 50% of your resources... so better to get it right.
Charities (and non-profits in general) have another challenge; their stakeholder community. The stakeholders are often diverse with differing and divergent interests and goals. The stakeholders are often non-professional. They are not used to thinking and planning strategically, to deploying "corporate resources" to achieve a "mission".
For these people, using a tool like TransparentChoice brings structure and helps them "perform at a level" much higher than they might otherwise achieve. The analytic hierarchy process (AHP - about which I've written before) is a very powerful way to get people to think more strategically, to drive alignment between stakeholders and to do so quickly.
This can make a massive difference. One non-profit we worked with brought their project selection process down from 90+days to just 6 hours! All that stakeholder non-alignment was sorted and sorted quickly so that resources could be invested in achieving the mission.
And that's why we support PM4Change. Because we can make a difference.
I hope you will too. Check out their website at www.pm4change.org.
------------UPDATE---------------
WHAT A DAY. #DC18PMDoS