Time for PMOs to Upgrade? Hell yes!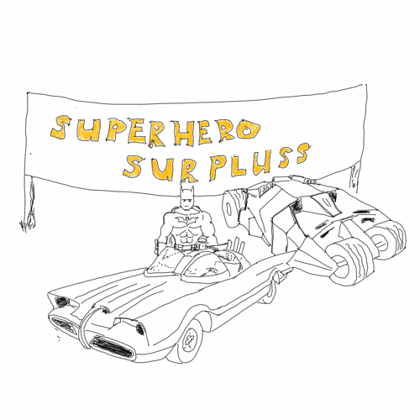 Have you ever seen any superhero sequel movie without an upgrade? Of course not! Superheroes come back with new gear to combat threats and to SAVE THE WORLD.
This is what PMOs need - an upgrade to fight PROJECT FAILURE. Like any good super villain, project failure is hard to eradicate (in fact, may never be totally vanquished). And like any good super villain, project failure can be fatal, not just to projects, but also to careers.
PMI's recent survey is absolutely clear – too much money is being wasted on poor project performance. No, don't roll your eyes. We've all heard this message so often it's kind of become background noise, but think about it. If your company decided to build a new $200m headquarters building then changed its mind and had to lay off 10% of the workforce because of the wasted money, you'd be furious, right?
Well, that's going on all the time in Project Land. Projects under-delivering. Projects failing outright or over-running. This is waste and it undermines the viability of your organization and you should care. If you're a PMO or PM, you're a leader - there's no excuse for "stick it to the man" indifference when it comes to project failure. This should be eating your guts out. It should be keeping you awake at night.
Or is that just me?
We've been fighting this battle for a loooong time and it's time for ALL project delivery organizations to perform at a high-level.
It's time for an upgrade!
The same old story...
Like most sequels, the storyline is broadly familiar. The speed of change and fierce competition requires every organization to adjust much faster today than in the past. Projects are the bridge between the strategic response to change and the realization of change in the organization.
There are superhero project delivery organizations who are already being successful. Champion organisations, those who deliver 80% or more of projects on time, consistently deliver;
88% of their projects on time (vs. poor performers who struggle to deliver 24% on time)

90% of projects on budget (vs. just 25% for poor performers)

92% of their projects on-target (vs. 33% for the weaklings out there)
That last number is the most important. If 92% of your projects are delivering their intended business benefit, you're doing well… and there's no reason every organization cannot aspire to get there.
But to achieve this level of performance takes a little work. We need to upgrade both the PMs and the PMO / ePMO. Let's take a look at some upgrades that work.
Upgrading the PMs
It's PMI time again: in the latest Pulse of the Profession, PMO directors and executive leaders were clear that the role of project manager is changing. The role of the PM is expanding to include:
Strategic Advisor: plans, executes, and delivers

Innovator: acts as product owner and developer

Communicator: is always clear and concise—no matter the audience

Big Thinker: is adaptable, flexible, and emotionally intelligent

Versatile Manager: has experience with all approaches—waterfall, agile, lean, design thinking

This is real superhero stuff!
Now I get to talk to all kinds of people with incredible project delivery expertise. At the PM level, here are some of the things I hear consistently.
Stakeholder engagement matters
Organizations with actively engaged stakeholders and executive sponsors report better project success rates, and experience less risk. There are several key success factors that come up again and again here.
First, make sure you're working projects that matter (see PMO upgrades listed below) - this tends to ensure that stakeholders and executive sponsors pay attention throughout the project life-cycle.
Next, focus on effective communication. Be concise and use the right language at the right level of the organization. Don't talk to executives about task-level design limitations, for example. Talk to them about business outcomes, risks and resources (and keep them focused on decisions you need them to take).
Of course, communication is two-way. By listening hard - and I really mean asking lots and lots of questions - PMs can upgrade their "big picture", "communication", "strategic adviser" and "innovation" super-powers (4 out of the Big 5 ID'd by execs above!)
This webinar by Dr. Lynda Bourne is a great introduction to stakeholder engagement.
Controlling project scope
Champion organizations that control project scope save money, increase customer satisfaction, and improve their project benefits. They establish feedback loops with the customer, and implement iterative approaches, allowing for shifts in delivery midstream.
Of course, managing scope becomes a lot easier if everyone clearly understands what the project is for. Be clear with everyone (all the time) about the business goals of the project. This should flow from the strategic prioritization process (see PMO upgrades) and should be part of every scoping decision. I'm amazed how many PMs fail to use this simple tool to manage scope.
Master the basic tools
One of highlights of last year for me was an interview I did with Amanda Oakenfull of Deloitte. Amanda is not "classic Big Consulting material". She's feisty, direct and has an incredible track record of turning around and delivering complex projects.
She's worth listening to.
And her advice? Focus on learning the tools of the trade and look forwards, not backwards. She doesn't mean PPM tools. She doesn't really mean specific methodologies. What she means is focus on really using simple tools like a risk register. Make the tools really work for you and "own it" (e.g. don't put "lack of resources" on your risk register). Her second key point is to look forward not backward. Financial reporting tells you where you've been which doesn't help you get to where you want to be. Instead, focus on getting good quality information on where you are, what's left to do and what the key risks are. Then put in place solid, decision-oriented governance to help remove the roadblocks and get on with it!
Amanda's advice is simple yet immensely powerful. It's like going to Tony Stark and, instead of building a complex and very expensive new Iron Man suit with thicker armour, you just say, "When someone shoots at you, duck".
The ultimate PM upgrade? I think so. It's free and effective and it's simple. Get it here.
Upgrading the (e)PMO
There is a huge amount that the (e)PMO can do at the portfolio level to affect project outcomes.
PMI data again: projects that are aligned to strategy are 57% more likely to deliver on their business goals than those that aren't. This means that picking your portfolio is more important than ever.
In a similar vein, the number one complaint we hear from PMOs is that they have too many projects. This has a direct knock-on effect on project success rates, but those PMOs are mistaken. They don't have too many projects, they have a lack of focus.
Talking about "too many projects" is looking at the symptom. Talking about a "lack of focus" shines the spotlight on the cause and if you know the cause, you can do something about it.
The cure in both cases is to upgrade the project prioritization and selection process and, believe it or not, there are good ways and bad ways to do that. Most organizations use "bad ways" - ways that are simply not terribly effective (like using spreadsheets or even the portfolio selection tools in pretty much any PPM product). The right way is something called the analytic hierarchy process (or even DEA) and we like it so much we based our project prioritization tools on it.
Once you have the projects prioritized, you can make a massive impact by estimating and sequencing projects more quickly. This is meant to be one of the things that PPM tools do well but in my experience most organizations still use spreadsheets. Given how difficult it is to manage scheduling / resourcing in spreadsheets, that says something about how most PPM tools do it!
There are some upgrades available for the super-power-hungry PMO. I've talked about Mortfolio before (rebranding to Aangine), but there others that also help (e.g. Meisterplan). What tools like this let you do is maximise throughput of projects, minimize resource "collisions" and do so quickly. This last point is where PPM tools (and spreadsheets) fall rather flat, in my experience. Building a scenario of which projects are delivered when and by whom takes… a long time.
This is important because 1) it burns a lot of your time! and 2) it means you can't answer questions from the exec team like "What if we added this project in Q2?" or "What would happen if we pull project 3 forward and push project 2 back?" If you can't answer those questions, you plan will suck.
If your plan sucks, the execution will suck.
It doesn't matter how good your PMs are. Garbage in, garbage out.
So, if you want a quick way to upgrade the PMO / ePMO, take a good look at the project prioritization and portfolio planning domains. They sure beat rocket-boosters!
Don't wait 'til it's too late
We're in the second quarter of the year already (assuming you run a calendar year). Can you believe it?
That means you're probably already wrestling with a few failing projects, with allocating resources correctly, with keeping stakeholders focused. The last thing you're thinking about is your next planning cycle, but think about it.
You don't want to go through this project-failure inflicted pain again next year, right?
Heck, you want it to stop this year!
So now's the time to fix it. Start working on the upgrades today - some of them can take a while to prepare and implement. While you can roll out "PM Upgrades" any time, the bulk of the "hit" for the "PMO Upgrades" happens during the planning cycle, so you need to start working on The Upgrade now to have everything in place in time.
And whatever you do, don't get caught wearing last year's Supersuit!