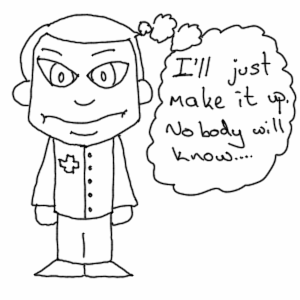 When you go to the doctor, you expect that she will use evidence and best practice when treating you. A doctor has a certain duty of care towards her patients.
It would be terrifying if doctors around the world just started making stuff up. I mean you'd run a mile from a doctor who said, "Got a flu? I reckon a few purple pills should do the job. I mean, they worked fine for Mrs Jones' sciatica the other week!"
But that's exactly what organizations (and PPM vendors) around the world do when running project prioritization. They make it up. They just put their thinking caps on and slap together a spreadsheet (or, even more scary, vendors slap together a module for their PPM tool).
Yet executives and managers have a duty of care every bit as binding as that of a doctor. They have a duty to use the organization's resources efficiently in support of key organizational goals, but "making it up" has been standard practice for years.
Luckily, we now have real evidence-based research to tell us how things SHOULD be done.