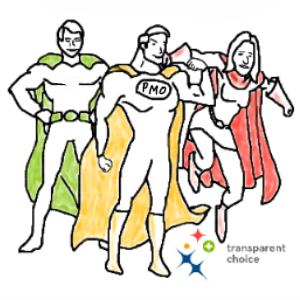 Every PMO has the potential to be a superhero. Seriously.
Anyone who can deliver a sustained competitive advantage is a superhero (in company terms, anyway). It may be the "golden touch" on product (Steve Jobs) or the ability to spot a value-investment opportunity (Warren Buffet).
The superpower that every PMO has is the power to deliver a far more efficient and effective use of capital.
Hmmm – doesn't sound as cool as X-ray vision or the power to create force-fields… but you know those aren't real, right?
Apart from my Mum, who definitely had X-ray vision while I was growing up.
A more efficient and effective use of capital, however, is about as important for a company (or government agency, NGO, etc.) as it gets.
So, put your underpants on the outside and prepare to change the world!