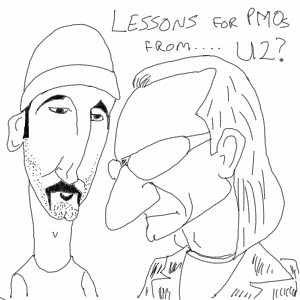 Data suggests that 72% of PMOs are being called into question by senior executives. Clearly these executives don't perceive value in what the PMO is doing. Now, the project portfolio exists to deliver business-value-oriented projects and programs, so this brings us to some really important questions:
Why isn't every single project aligned with strategy? (Aligned projects are 57% more likely to deliver business value)
Why do I never have enough resources for my projects?
Why is "the business" frustrated with the project delivery organization?
Why do so many project teams get frustrated with their business "customers"?
Why is there a picture of Bono at the top of this blog?
These are the important and urgent questions we will answer in today's blog.