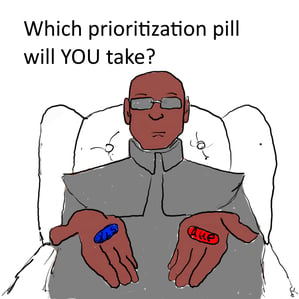 "You take the blue pill... the story ends, you wake up in your bed and believe whatever you want to believe. You take the red pill... you stay in Wonderland, and I show you how deep the rabbit hole goes." Morpheus, The Matrix
Are you living with a prioritization process that you know isn't right? It's painful, it's wasteful, and we never quite deliver the strategy, but… people are keeping busy, we have a spreadsheet and the sales guy at the PPM vendor reckons his tool might help.
If this is your reality and you're happy with it, then take the Blue Pill. You'll wake up on Monday morning and the world will be just the same.
But if you're tired of accepting mediocrity in prioritization then you need the Red Pill. The one that will show you that taking control of your portfolio is about making choices.