According to Geneca, 75% of execs believe their project is doomed from the start. This got me wondering…
How can we become more effective today, right now?
Where can you find a quick win, something that will stop you wasting resources?
Where can we have more impact with less effort?
I have compiled a set of five tricks to get you started… I'm sure you will come up with more. Let's make this "new online world" work for us as a community - please share your ideas by commenting in this thread!
(I have added a few of the comments we got on various Linkedin group at the end of the post).
Project requests - kill the spreadsheets!
I was rather shocked a couple of months ago when a prospect indicated that collecting project requests, collating information and preparing it for project prioritization was one person's full-time job.
So I asked around, and this is a very common picture. Multiple spreadsheet versions of the project request form, manual collation of data and don't ask what happens when you need to have the project requester update some of the project data…
Who has the right version of the spreadsheet? Is this the latest version of the data? Who knows?
I was so incensed by this totally pointless waste of time and energy that I asked our engineers to come up with a quick tool to get rid of all those spreadsheets and… they adopted the idea as their own. It has become something of a skunk-works project around here. The guys have been working in their spare time to get it ready. I hope you'll find it useful. It should, at least, get rid of all the wasted time associated with using spread-sheets to manage project requests.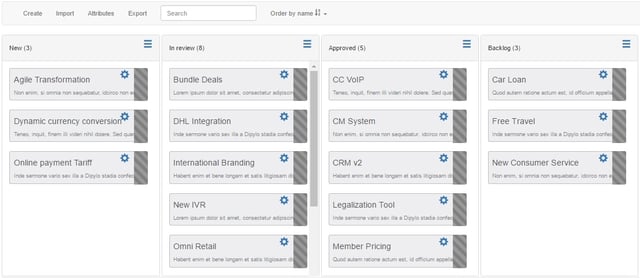 Refocus project kick-off meetings
According to Changepoint, 80% of project managers don't know how their project aligns with the company's business strategy.
Really?
Surely this should be the easiest thing in the world to fix. First of all, make sure the PM is plugged in to the business sponsors of the project and that she/he has a clear picture of the business goals of the project before getting started.
Then, at the project kick-off, make a big song-and-dance about the business goals and expected outcomes.
Focus leads to productivity
Mike Hannan of Fortezza Consulting did a webinar for us a few months back – if you haven't seen it, go there now. This is a man with a serious track record of helping PMOs make a step-change in successful project throughput. He has a small arsenal of techniques at his disposal, but one of the simplest tools – and one that is incredibly easy to implement - is what he calls "the focus light."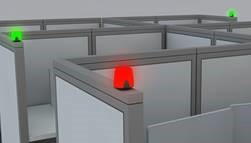 As shown in the graphic (thanks for sharing, Mike!), this is just a small USB light that mounts atop team members' cube walls - you could also use little flags, etc.. The team member simply turns it red when she is executing work, pulling task after task, one at a time, in priority order, through to completion. That team member would then turn the light green when she's available to take ad-hoc questions from fellow team members, or perhaps just to take a break and chat with co-workers for a few minutes.
Sound gimmicky? Well, would you believe that teams have improved their speed and productivity by a factor of 2 or more through this little trick? This mechanism works especially well when coupled with effective task-board tools that help visualize, prioritize, and execute tasks in a focused manner. Some of Mike's clients have even achieved a "3X" in productivity within just a few months by combining all these little tricks together.
What I found really interesting is that the focus light often takes on a team dynamic—once a few key people start to turn their lights red, almost everyone follows suit, encouraging more team-wide focus time. After all, if I can't go ask Sue my question because her light is red, I guess I'll go "heads-down" myself, and catch up with her later during a "green-light" time.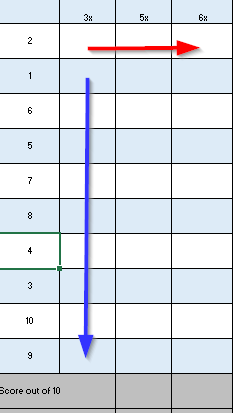 Ever the sceptic, I decided to try this principle on my 8-year-old twin boys. Every morning, on the way to school, we do "table towers" – they fill in a multiplication table like the one shown here.
Now, an 8-year-old will usually start by picking off the answers they know the best (2x, 5x, 10x). Then they will go across the rows to work out the rest (red arrow - that's how we read, after all). But think about it – doing this, you're having to change "task" every three questions. For example, 3x2, 5x2, 6x2 are followed by 3x1, 5x1, 6x1…
Applying Mike's rule, I suggested that the boys don't pick off the easy ones, but rather go all the way down each column in turn. That way, they have fewer "task changes". That's the blue arrow. The "3x" is constant over 10 consecutive questions making it easier and faster to complete the task. The result?
Three minutes and twenty seconds became two minutes forty-five to complete the same number of calculations. I make that a whopping 17.5% increase in productivity simply by "keeping the flow" for longer. Feel free to create your own "table tower" sheet and try this yourself and with your teams.
Then, rather than just barking vague exhortations to your team to "get focused!", go get them some focus lights, and see just how focused—and productive—they can get.
It's about the team
Okay, we all have experts and we need them, but optimizing your work only around those experts is not massively effective. Johanna Rothman, author and project management "efficiency geek" says, "Never let experts work alone. People doing resource management often see the world as them having one resource here and one there. They think about resource efficiency and schedule based on the experts' time. BUT organizations 'buy' the output of a team, not from the individual so you need to look at the flow of a project through the team."
The following pictures come from Johanna's book (with kind permission) and show the difference between resource efficiency and flow efficiency.


In other words, negotiate and plan so that the whole team can be effective and, ideally, so there's less multi-tasking for those scarce expert resources (see previous point about staying on-task).
Prioritize project prioritization
There are fundamentally two ways to improve the output (in business value terms) of your portfolio; execute projects better or pick higher value projects in the first place. One of those requires a lot of investment in people and process. The other lets you have an impact very quickly...
Again, I've written about project prioritization before, so I won't drone on here, but it is a very quick win.
Your turn
There is a wealth of experience out there. Please share other PMO/PM quick wins. Let's stop making life harder than it has to be. As a community.
Comments from various LinkedIN groups, presented in no particular order:
Arifa Chakera I always asked why we are doing it and what will happen if we don't do at the start. I also ask Execs to draw and explain their vision / expectations of the project. If the Execs sell their vision, what is one delivering. A programme/ pmo / project manager should have enough independence and confidence to do this before rushing into delivery.
Christina Oman, RMCP® For projects delivered to customers staffing for the project before the win probably hits 90% will help to insure a smoother kick off. Staffing the project a week before will lead to customers satisfaction issues and reduce project quality.
Darrell Gardner The 3 areas (well there are other cross functional tests but the primary concern for OPM3 maturity is Strategic -> Tactical -> Operational. If you have adoption at all three levels you are a mature organization...

https://www.linkedin.com/pulse/20140709223648-2730162-opm3-assessment-process-can-you-do-it/
Jason Orloske, MPM, PMP, CSM, CM Stuart, I believe there is a limit to the amount that can be written in a response so will stick to the key points:
Solid business case with how the project will align with organizational goals and commitment from sr. leadership on its success
Have a clear, concise vision of what "DONE" looks like and display that prominently so the team and stakeholders can see it
Identify roles you'll need even before the project kicks off and find gaps; assign names later
Depending on project complexity, may need 2 kick-offs; one for stakeholders and managers, another for the project team. The goal is to get everyone on the same page at the start
Engage stakeholders early & often; keep them informed and bring up risks/issues early before they explode
Keep the team focused on the work, the PM can handle any external politics and distractions
Continually show progress so stakeholders don't see the project as being in a "black hole"
People vs. Process; find a balance
David Calvert Robust business case, don't start without one and regularly check it's still valid and relevant.
Greg Gomel I'd say the first place to look is at the number of projects that are active. It's likely that the PMO has been oversubscribed and not able to get the projects completed with the resources that are available. It's a hard conversation and one that has to occur in order to provide transparency for the organization to determine what they truly want to accomplish.
Diego Arimany I've seen many colleagues that fail with their projects/programs because they cannot align it to the corporate strategy or simply by extension... they don't understand the expected benefit to the organization. Once you understand it, you are smart enough to figure out what will deliver value.
Selina Tallett Drawing out pre-mobilisation issues and finding solutions in advance. For example:
Being aware how busy or constrained the Project sponsor is. Will you struggle to find time to regularly engage, schedule project briefings or raise delivery concern escalations? Ensure you encourage PM's to think about this in respect of planning, building in time for reviews and updates for approvals and decision making in advance.
Is the Project Sponsor aware of their responsibilities through the life cycle? Be prepared to coach and provide extra support proactively or look. For a delegate to support.
In the wider view, keeping an eye on areas such as access to SMEs required to facilitate delivery, if applicable end users or stakeholders from the Business if it is an IT project. Timelines can be derailed by unavailability of key resources such as USB testers or lack of communication with stakeholders.
Referencing how the project helps to meet the strategic agenda, even if only by way of enabling via another project or programme. If it doesn't, then it should not be in the initiation pipeline. If it is, having the fortitude to ask why and take collective steps to deprioritise.
Richard Trevithick Keep challenging 'why are we doing it' when told 'this is how we are going to do it'. Involve Finance in challenging the business case. A one slide project charter encourages succinctness of expression
David Calvert Robust business case, don't start without one and regularly check it's still valid and relevant.
Fatimah Abbouchi More impact with less effort by ensuring efficiency and only value add tasks are being done. Streamline reports to one that serves multiple purposes.
Lynne Bailey A very quick and basic win is to set up a separate PMO mailbox. This ensures all requests are dealt with and there is only one place to look when you (inevitably) have to find an old email to confirm what was said.
Karen Dodds Get your own house in order first. Figure out what kind of PMO you need to be for your organisation
Octavio Povoa (The other) 3s: Stop the bleeding, Scaffold process and Start delivering
Andy (Andreas) Schulte, P.E. A couple of quick thoughts in the spirit of keeping it simple – not all quick, but common sense. Get basics right and the rest follows:
Resource mgt – understand planned & unplanned workload that may get in the way of keeping on schedule. Manage it diligently. If no tool, ask individuals and managers.
If there is a pool of PMs, match right skill to project complexity. Also institute regular learning sessions to drive learning from each other, prioritized by known areas of weakness.
Commensurate with risk profile/business impact, mandate active engagement up the chain of command & steer quickly.
If external client project, increase face-time with customer stakeholders. The extra expense will pay off (you may not be able to measure it).
If recurring theme, scope development/estimating (including risk mgt) institutional investment to internals stakeholders to drive short & long-term improvements. The core issue may be another area – then drive that learning.
David Butler Communication is critical between all interested groups and the PM should ensure that the right information is flowing. That can help avoid the nasty surprise right at the end that nobody saw coming.