What is the Role of the Project Management Office (PMO)?

Stuart Easton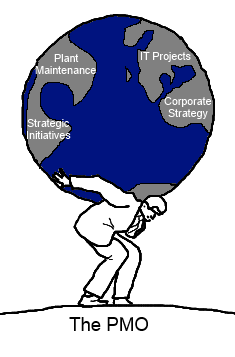 I have this debate with project management officers around the world, from time to time. Many PMOs feel like Atlas holding up the world - running a PMO is a thankless and never-ending task.
So what is the role? What should a PMO do?
I'm going to share my view, greatly simplify things. What I'm really interested in is your views, so please dive in and comment.
To me, there are three main aspects of a PMO.
1) Project prioritization and selection
2) Project governance / oversight
3) Promotion of best practice / skills development
For me, the most important of the three is the selection of projects. The reason for this, as regular readers will already know, is that perfect execution means nothing if you're executing the wrong projects.
I sometimes see PMOs who focus exclusively on points 2 and 3.
Skills Development
Let's talk about skill development for a moment and then I'll come back to why prioritization is the most important.
With ~50% of PMOs failing within 3 years, it has become imperative to understand the underlying cause. There's lots of research around it and one of the reasons Joe Pusz emphasizes on is that 50% of the first time PMO leaders are mostly Project Managers and Program Managers promoted to the Leadership role.
Now the question is - Are these first time PMO Leaders getting training to learn how to be an effective functional leader? Do they work with a Professional Coach or Mentor to help improve leadership knowledge and skills? Are they prepared to elevate their career from leading projects to leading a function?
All these questions will be tackled in our upcoming webinar with Joe Pusz. It is a big change for first time PMOs and one that requires a different skillset altogether.
One of the downsides of not thinking and owning the space like a leader is that PMOs imagine that the "executives" magically pick projects that are the right projects and that the PMOs responsibility is simply to make sure they are well executed.
This often leads the PMO to rush out and implement project portfolio management (PPM) software to support project execution and governance.
I'm convinced that this is a mistake.
One of the most important aspects of a PMO is to help the organization select the right projects and this has to come before PPM. Now, some environments are more open to doing this well than others, but no matter what, a PMO who does not address prioritization is not really doing the job.
Of course, I'm not suggesting that project governance and adopting best practice are not important. They are. I'm simply suggesting that there is a natural order to these things: get good at prioritization first, develop the right leadership skills and then you can worry about executing the projects better.
I dare say many people out there will disagree with me. That is your right, but please, please, don't ignore the project prioritization process.