"I DO NOT LIKE THEM, SAM-I-AM.
I DO NOT LIKE GREEN EGGS AND HAM."
And thus battle commences between the PMO and its stakeholders.
In the Dr. Seuss book Green Eggs and Ham, a fantastic book for children of all ages (I'm 50 and I love it – and this wonderful book is written using just 50 different words*), one character (let's call him the PMO) is trying to get another to try… you guessed it… green eggs. And ham.
The point is, the other character (let's call him the Executive) doesn't want them. He says he doesn't like green eggs and ham. But again and again, the PMO tries to get the Executive to eat the green eggs. And the ham.
"WOULD YOU EAT THEM IN A BOX?
WOULD YOU EAT THEM WITH A FOX?"
Why am I going on about silly children's stories*? Well, 50% of PMOs fail in their first 2 years. 72% of PMOs are called into question by the executive team. The reason for such high failure rates is that many PMOs are not delivering the value that the business (more specifically the Executives) want.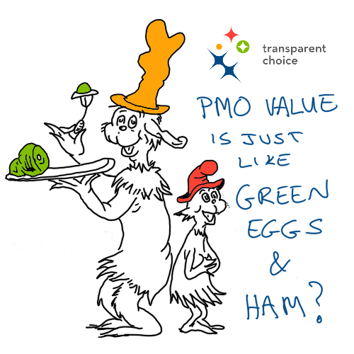 "YOU MAY LIKE THEM. YOU WILL SEE.
YOU MAY LIKE THEM IN A TREE!"
I've written before on the fact that the only point of a project portfolio is to deliver strategic goals. The point of the PMO is to help the organization make that happen. This is the VALUE that's unique to a PMO.
So, how do you figure out what tasks, processes, metrics and deliverables the PMO needs to address in order to deliver value? How do you work out what order you should tackle them? How do you stop trying to "push" green eggs and ham and, rather, offer your Executives what they want?
Well, it's not as simple as letting them tell you.
Executives are not, typically, experts in making projects run successfully. They tend to say things like; "I want a PMO and it should do A, B and C!" Then they wonder why the PMO doesn't really add value. A, B and C were not the VALUE they wanted (though it may have worked for their buddy over at the golf club). They are the tasks the execs thought would add value but, in your environment, they are the wrong tasks.
No, you need to approach this in a more methodical way. You need to ask the executives what they are trying to achieve. What's stopping them achieving it? Why do they want to achieve that particular goal? Really get into what they value in business terms (rather than in terms of deliverables, processes, etc.)
And don't just talk to the executives. Cast the net wide. Talk to project managers. Talk to individual contributors. Talk to end users. Find out what is in the way for them, what things they would value.
Then put your thinking cap on and work out what dish your team will find attractive. Don't offer them green eggs and ham if what they want is a nice Roast Beast*. Offer them Roast Beast!
Hmmm, I may have just given you the impression that this is a "Give them what they want" mantra. I think a better way of putting it is "Give them what they need!"
Specifically, give them what they need to achieve their business goals. If their goals are things like, "We need to complete more successful projects," then you need to do some root cause analysis on what's preventing them completing projects successfully. The things you deliver should be focused around those root causes and you may need to do some work to "sell them" on the fact that if you want successful projects you need to fix X, Y and Z…
There is definitely an art to this and Hussain Bandukwala of Parwaaz Consulting (a speaker, author, PMO coach and trainer) walked me through it in this recent interview. It was a lot of fun: Hussain really knows his stuff and is a cool guy as well… must be all that snow up in Canada. More importantly, he was able to set out a structured process for figuring out what the unique "value proposition" is for your PMO.
Hussain's framework helps you focus on giving them the value they want (projects that succeed) but sometimes that means convincing them that you ought to do things that they hadn't expected (and not to do things they assumed were part of the answer).
So, you may end up offering them project prioritization because prioritization is a critical step in delivering successful projects. Your executives may have been expecting you to put in place some highly bureaucratic reporting system, but your analysis should show them that prioritization is the bigger roadblock. So, don't do the reporting (which itself may become a roadblock), but invest in prioritization.
But make sure you show them how THEIR input led you to that conclusion. Don't follow the lead of the PMO in Green Eggs and Ham.
"YOU DO NOT LIKE THEM. SO YOU SAY.
TRY THEM! TRY THEM! AND YOU MAY.
TRY THEM AND YOU MAY, I SAY."
But… maybe the PMO leader in Green Eggs and Ham is not so daft after all. Maybe he's done his homework. Maybe he's been through Hussain's process and he knows that Green Eggs and Ham will deliver the value – the business results – that the Executives want.
Of course, in the book, the Executive finally tries the green eggs and ham (because the PMO has done his homework and has shown how green eggs and ham will allow the Exec to achieve his goals). And, of course, he loves them (because it delivers the value that he wants).
"I DO SO LIKE GREEN EGGS AND HAM!
THANK YOU! THANK YOU, SAM I AM."
With those words, the book ends.
But your work is just beginning. I cannot recommend strongly enough that you take 40 minutes to listen to the interview with Hussain. To be honest, it all seems a bit obvious when you hear it – it's not rocket science. But it's the kind of obvious that we often forget to actually do.
And once you've done that, we'll explore how Alice Through The Looking Glass holds the key to sending Elon Musk to Mars.
Which is rocket science, come to think of it.
1* - Trivia time: Green Eggs and Ham was the result of a bet between "Dr Seuss" (real name Theodor Seuss Geisel) and his publisher that he couldn't write a book with fewer than the 255 words in Cat in the Hat. Green Eggs and Ham uses only 50 different words in the whole book.
2* – Not so silly. Green Eggs and Ham was No. 4 on Publishers Weekly's 2001 list of all-time best-selling hardback children's books (beating even the ubiquitous Harry Potter).
3* – Roast Beast is not from Green Eggs and Ham, it's from How The Grinch Stole Christmas. It does, however, keep up the Dr Seuss theme.